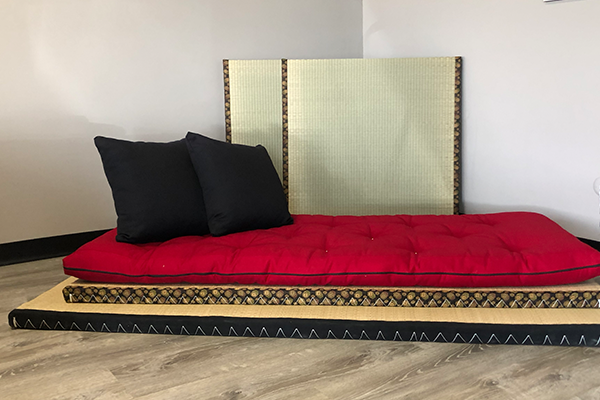 Eucalyptus Shikibuton Japanese Futon
Original price
$209.00
-
Original price
$319.00
The Eucalyptus Shikibuton is a new and improved version of the traditional all-cotton Shikibuton.

The core is made of two layers of cotton fiber topped by layers of eucalyptus fiber on each side. The eucalyptus fiber is more breathable, eco-friendly. It also has more "rebound", and becomes less firm than cotton fiber when it's compressed. The Shikibuton Japanese futon is a traditional bed usually used on tatamis and folded during the day to be stored. The cotton compresses over time and offers a firm comfort.
In the West, these futons are used more often by persons who are looking for a very firm and grounded sleeping surface or travelers that have experienced this type of comfort. 
Made w/ 2 layers of eucalyptus fiber & 2 layers of cotton fiber
Available in 2 colours
Can easily be rolled or folded
2 bottom straps tie the futon
Additional cover can be added for washability 
Handmade in Quebec


Dimensions -
Compact - 32 x 72
Single   - 39 x 75
Double - 54 x 75
Queen  - 60 x 80
*Not meant to be used on a futon frame as you would feel the slats.
*Availability : 1-3 weeks